There is an exhibition of historical radios in the area of art gallery now.
Gallery was created to complete the exhibition of historical cars, motorcycles for those visitors who are not fans of the history of cars and motorcycles.
Galerie Veteran Arena gives space to an important regional artists to present their work and last but not least, represents the best of Czech avant-garde, see the exhibition of Ales Vesely. We offer these artists unique regional gallery, that visit each year more than 20,000 people. The high attendance is exceptional  for the moravian Galleries and we can be compared with galeries in the main city Prag.
 The plan for each year is divided into 2 parts:
2 shows the regional or Moravian
1  prestigious exhibition serving the region to be more attractive. To all the exhibitions that took place in the gallery Veteran Arena was published sales catalog.
Past  exhibitions
Augustin Mervart 1889 – 1968. (book)
Selling exhibition Augustin Mervart was organized as a retrospective exhibition. Augustin Mervart belonged to the top of Moravian landscape-painters in the first half of the twentieth century.
During the preparation we cooperated very closely with the Museum of Comenius Přerov, which is the administrator of his extensive depository, including pictures and also personal correspondence, photographs,and other personal belongings.
On this occasion we published his first comprehensive monograph that describes the artistic and personal life. This book with 200 pages you can buy in our museum.
Trends 2012  (Catalogue)
Is currently running until mid-May 2012. In this exhibition are about 90 paintings and sculptural work from 26 artists of the Union of Artists and their guests and this is also selling exhibition
There were four exhibitions in the Veteran arena that fully demonstrated that the combination of technical exhibits, contemporary design and works of art is the most appropriate choice. Veteran arena Visitors have the opportunity to get to know and assess the current form of art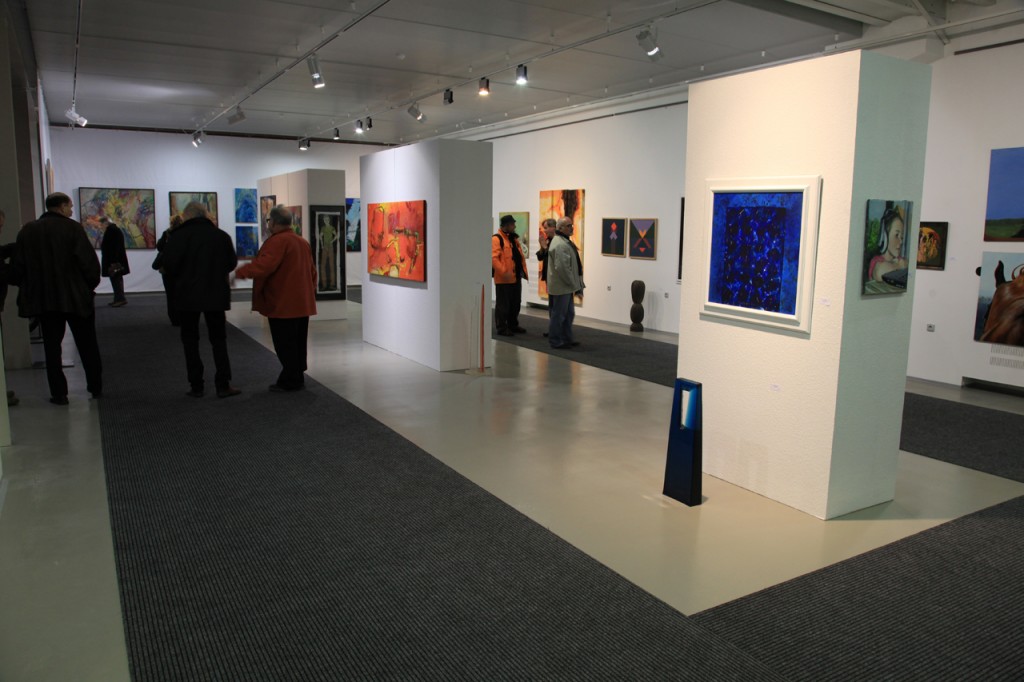 Past exhibitions
Aleš Veselý – Drawings by painting (Catalogue)
Exhibition is focused very specifically on large-size "drawings by painting" up to 2.2 x 5 meters from the first half of the 80th years. There are expressive paintings on canvas or on paper, produced by various non-traditional techniques. The total number of exhibited works is about 20 pieces. The works come from the author's deposits and loans from Museum Kampa – Foundation of Jan and Meda Mládek. Aleš Veselý is one of the most prominent personalities of the Czech art scene from the first half of 60 years untill now. Nevertheless, he is especially great sculptor, also deals with drawing, painting, graphics or creating environmental projects. All his works have something common – an incredible energy which is fueled by a desire for monumentality.In his works he deals with man's relationship to society, nature and the universe. He deals with issues of order and chaos, space exploration, balancing forces by strokes, tension, pressure.
Zlámal exhibition (Catalogue)
designed exclusively for Veteran Arena, was the first and last opportunity to show work of the Zlámal family-three generations of painters. The exhibition included not only paintings but also drawings and preparatory studies. The exhibition presented the creation from 40s years to the present. All presented works were sold. Zlamal Wilhelm (1915-1995) was spiritually and linguistically anchored mainly in the German cultural tradition, he painted mostly landscapes but really interesting was also his portraiture and figurative work in which he at the end of life touched the term of 'absolute light. "Zlamal Petr (1949) tends, unlike his father in recent years to intensity of expression and  to the explosive or "minor" color, revealing his emotions and psychological sense and excitement of painting. He also like his father combines a unique unusual light in his work.Josef Zlamal (1983) continues the family tradition. In his work on canvases and on paper he wants to get immediate feedback, whether positive or negative reaction and sometimes until shock of ugliness. Zlamal exhibition was evaluated as the most interesting exhibition of the year 2011 in the Veteran Arena gallery
Three generations of Šnajdr (Catalogue)
Galerie Veteran Arena showing cross-section of work of grandfather, father and son – František Šnajdr of Tovéř near Olomouc , his son Miroslav Šnajdr and grandson Miroslav Šnajdr Junior younger. 50 works were exposed in this exhibition.
Slavoj Kovařík exhibition
from 05.15.2010 to 31.11.2010 . There were exposed more than 100 paintings , mostly oil paintings. The content of the exhibition was a retrospective of his life's work – from early work to the works of late life. The exhibition was almost whole sales exhibition and got great success mainly in Olomouc artistic community .